Google Ads vs LinkedIn Ads: Advertising Solutions For The Tech-Driven World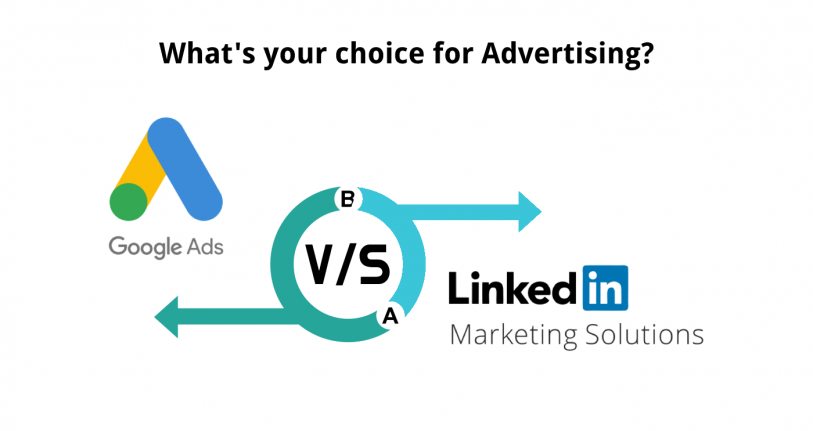 Google — the largest search engine with over 2 billion users, needs little but no introduction. The popular platform has made the lives of B2B business owners much simpler with innumerable ways of reaching out to their target audience. Formerly known as AdWords, Google Ads is a step ahead and has been the go-to platform many businesses take leverage of.
However, the competition is not entirely leaning towards it — the market has some other contenders. For example, LinkedIn is another medium that proliferates businesses with a substantial user base under its kitty.
LinkedIn is almost a two-decade-old platform, connecting potential candidates to companies and vice versa. The half-a-million user-base platform serves as a great platform to connect and build relationships with people across the globe. Business owners also find LinkedIn the best place to market their product and services, owing to the platform's wider reach to a more professional and sophisticated audience.
There are no striking differences between the two platforms — they share a common goal — connecting businesses to their target customers. That said, there's a lot to unravel about the two user-rich platforms. To help you come to terms with the most suited channel for your marketing campaign, keep reading below.
Let's break the competition by jotting down the most impact worthy benefits of both the channels — first, let's start with Google Ads.
Benefits of Google Ads
Authority over campaign (almost all the time)
The hurdle of running advertising campaigns to reach your target audience is a long and tedious one. The initial and final stages of such campaigns require resources and time — that are possibly not one person's job. Google Ads helps you take leverage of its one-of-a-kind feature called the "Display Network" or GDN, which allows you to push adverts at the scheduled time per rules and regulations.
Generate results quicker than SEO
Google Ads' biggest USP is its effectiveness in drawing results quicker than search engine optimization (SEO). Irrespective of how seamless and up-to-date your SEO strategies are, they may take time in delivering results, and marketing online doesn't ask for patience. As you leverage the benefits of Google Ads, there will be a drastic and positive increase in search engine results — and a free-flowing growth too.
All in all, SEO is an investment like a bowl of cherries that will help you in your future endeavours. The likes of Google Ads and social media ads are prevalent in these times, as they help with garnering short-term and instant traffic.
Variety of ad types
Google's range of ad types is something that no other marketing channel can offer. The following types come in handy when curating content for different audiences. While LinkedIn also boasts of some result-oriented types, here's a small overview of Google's ad types:
Text ads: Probably the simplest of ads to create and optimize. Also, the cheapest offering from Google too.
Product shopping ads: This form of advert mainly comprises the product's image, title, price and the store's name. Such ads show up when a user is searching with the intent of shopping. These automatically-generated ads appear based on the information collected from your data feed.
App promotion ads: This connects with a larger audience and propels them to download apps. Such ads come across to users when they go for product hunting on Google, and websites and apps in partnership with the search engine.
Benefits of LinkedIn Ads
Targeting audience with precision
The support from LinkedIn in targeting audiences with specific details is unparalleled. With Linkedin, you have the biggest advantage of launching campaigns that generate a massive reach to a professional and precise audience. This highly sophisticated networking platform allows you to target users by using certain demographics like location, job title, organization's name, industry, degree, professional interests, and so on.
Since most LinkedIn users display their most accurate information, you will generate picture-perfect leads of potential business seekers or buyers.
Connect with the target audience directly
LinkedIn's Sponsored InMail is a great way of reaching out to your target audience. This advert lets you share customized messages across to your audience who may appear as potential candidates or buyers of your product or service. Sponsored InMail is a lucrative offering from the platform, and here are some of its other uses that help in driving fruitful results:
Sharing e-invites to online events or to download exclusive content; for example, ebook or whitepaper
Persuading users to buy your product or service.
What's more? Sponsored InMail prevents you from sharing content with those who have been inactive for quite some time. The feature drives exponential results by creating a larger member base and generating more earnings from such associations.
Wrapping Up
The perils of both platforms also exist; their challenges come in various forms — cost, their pace in reaching out to a wider consumer base, etc. Their role in this fast-paced world is more important now than ever it was. Both platforms come with their fair share of highs and lows. Nevertheless, we have to pick a winner.
LinkedIn has been widely accepted by most B2B marketers, while Google Ads remains on top of the game in more aspects than one. Making the best use of both platforms simultaneously has worked wonders for many, increasing more numbers — both in audience count and earnings.